INTERCHAMPION (C.I.B.), MULTICHAMPION,
JUNIOR CHAMPION OF MOLDOVA, BELARUS,GRANDCHAMPION OF ROMANIA, BULGARIA,
CHAMPION OF UKRAINE, ROMANIA, BULGARIA, MOLDOVA, BELARUS, RUSSIA, MONTENEGRO, MACEDONIA,
BALKAN CHAMPION,2 x Best Baby, 5 x Best Junior, 2 x Best Junior Male,
7 x CACIB, R.CACIB, 4 х jCAC, 21 х САС, 4 x R.CAC, 10 x BOB, jBIS, 3хBIG, BIS-2,
3 х Лучший производитель,field trials (duck) - 3d degree, field trials (blood track) - 3d degree
prcd-PRA Normal/Clear (свободен от ПРА)
HD - В, ED - 0
eyes - OK (2010)
WINDUP BARBERRY PRINCE OF WALES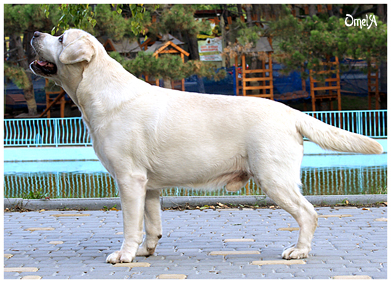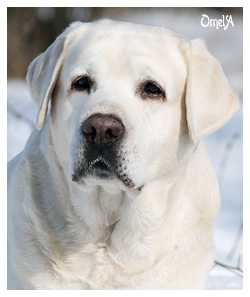 GINGER RED KALLADO

Это ЧЕТВЕРТЫЙ помет от этих производителей!!!
Щенков из третьего помета можно посмотреть
здесь
GAOKERENA GREAT HOPE OF LABROLAND GARISH STYLE

фотоальбом
Gladis Scarlett Glance of love Garish Style

фотоальбом
Zesty Pepper Garish Style

фотоальбом
Zeta-Jones Garish Style

фотоальбом
AL ARABIYA GARISH STYLE

фотоальбом
Arwen Evenstar Garish Style

фотоальбом
Родословная щенков / Pedigree of the puppies:
Интерчемпион
Мультичемпион,
Юный Чемпион Молдовы, Юный Чемпион Беларуси,
Грандчемпион Румынии, Болгарии,
Чемпион Украины, России, Румынии, Молдовы, Беларуси, Болгарии, Македонии, Черногории, Чемпион Балканских стран

Field Trial

Windup Barberry Prince of Wales

ЮныйЧемпионРоссии,
ЮныйЧемпионНКП
Turbo Jet od Himalajskego Cedru

Ch Cz, Sk,
Ch of work Cz
RochebyUnion Jack

LindallGalileo at Rocheby

RochebyPeppermint

Peach od Himalajskego Cedru

INT Ch, Ch Fin, HU, Polish, Cz, Sl, A Ch, JCZ, JSl
Rocheby
Smokescreen

M'LadysFinnish Lady

Интерчемпион,

Гранд.Чемп.России, Ч.России, Беларуси, 2хНКП, 6-РКФ, Юн.Чемп.России
Windup Barberry Arabica Aravia

Ch RUS, BLR, LIT

BlondessEmpire Dastiny

Ch INT, RUS, UKR, BLR, MOL, YUG
Brencara Johnie Walker

Ch RUS, BLR
Sretlaw Grace and Favour

Чемп.России, РКФ
Blondess Empire
Shamz Elize

Ch INT, RUS, UKR, YUG
CastleduffQuick Silver

BlondessEmpire Costa Brava

Ginger Red Kallado


C.I.B., JCH RUS,
CH RUS, BIR, LIT, FIN, EE, BALT,
GRCH RUS, FT Duck
Vey Talie Zhil


C.I.B., CH RUS, BIR, MOL, GE, GRCH RUS, FT Duck, BL TR
Tapeatom Goodwill


Tapeatom Gusto

Tapeatom Libertine


CH RUS, BIR, UA, MOL, GRCH RUS, FT Duck
Loijalhart Heigh-Ho Dear Heart


Strongline's Goblin


CH RUS, BIR, EE, FIN, UA, FT Duck
Strongline's Keep Smiling

Bora Bora Kallado

CH RUS, MOL, BG, UA, GRCH UA
Konan Do Sol D'Arena


Rocheby Suttonpark Travis


Rocheby Ringlets

JCH UA, BG, MOL, CH RUS, MOL, BG, UA, FT Duck
Arcabaleno Belle Canto

WIN FIN
Mailiksen Gentleman

CH RUS
Essenia Iz Tsaritsina